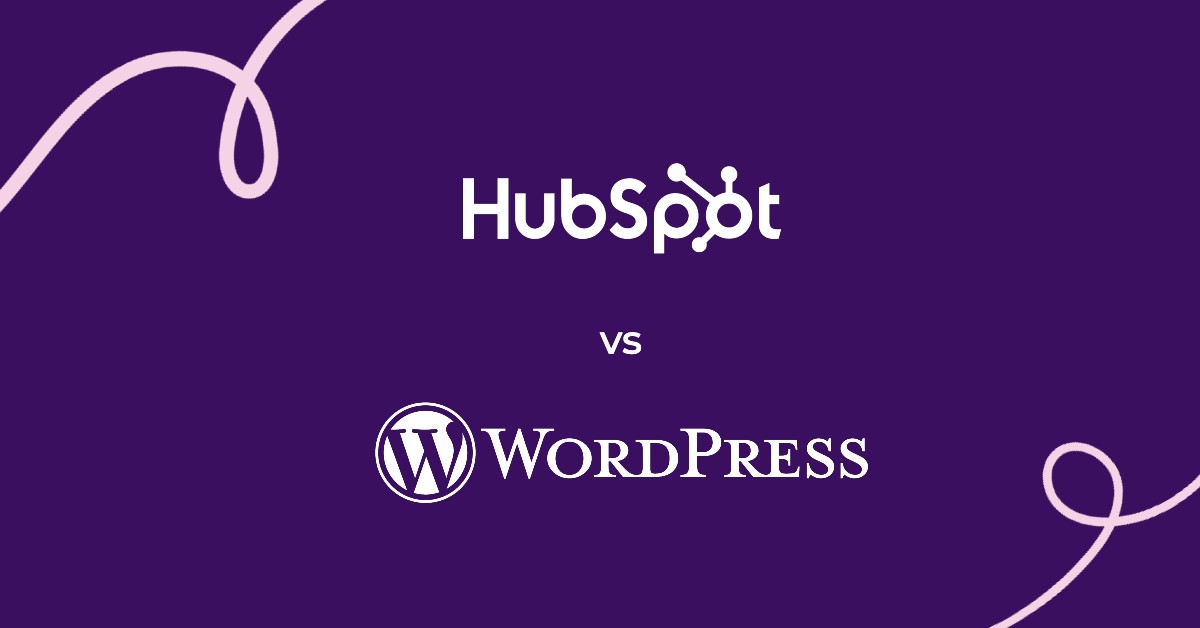 Back to articles
HubSpot vs WordPress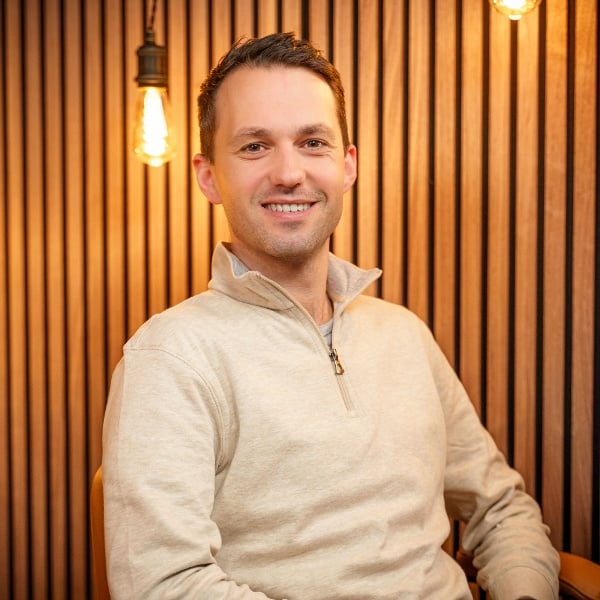 Huw Roberts
Looking for a Content Management System (CMS)? You're probably wondering where to start, what to look for and what the difference is between each one. At the end of the day, your website is the heart of your business, so using a good CMS is vital for business growth. That's why we're breaking down two of the most popular CMS software, HubSpot vs WordPress...
What to look for in a CMS?
Now, before we get into it, what should you look for in a good CMS? Here's a brief list of things you should ask yourself when comparing:
Can your day-to-day users use the system? They'll likely be the ones editing and updating the site so they need to be comfortable using it.
Is the design flexible? Naturally, over time, your brand will adapt and your CMS needs to be able to keep up with the changes.
Is it mobile responsive? In today's modern world, 50% of consumers are using mobile over desktop so your CMS needs to be able to respond.
Are you going to get the support you need? Whilst the software is pretty important, it's key that you have a team available to offer help when you need it.
HubSpot vs Wordpress
Let's break these two platforms down...
HubSpot is a cloud-based CMS, which means it's designed for both marketers and developers in mind. Users can easily create content, optimise the site, gain insight into performance all from one place.
WordPress is an open-source CMS, meaning anyone can use the software for free, making content creation simple and easy. It's worth noting that WordPress has to be installed or configured on your servers, or alternatively, use a third-party hosting provider. Additional features such as sitemaps and SEO require plugins.
What happens when they go head-to-head?
Website performance
Remember, your website is your base, the place people go to really get to know your brand. You want your CMS to help you build relationships, create a user-friendly site, keep it updated etc.
Building your site in WordPress helps you easily create text based content however changing layouts and design will require additional resources. Additional functionality such as live chat or A/B testing will require plugins.
As for HubSpot, the drag and drop functionality makes creating and editing pages super easy. Because the CMS is built on top of a single, unified database (HubSpot CRM), you have everything you need to tailor the customer experience and align with sales.
The HubSpot CMS Hub includes approximately 70% of the top 100 WordPress plugins built-in by default, such as spam protection, SSL, caching, SEO, and more.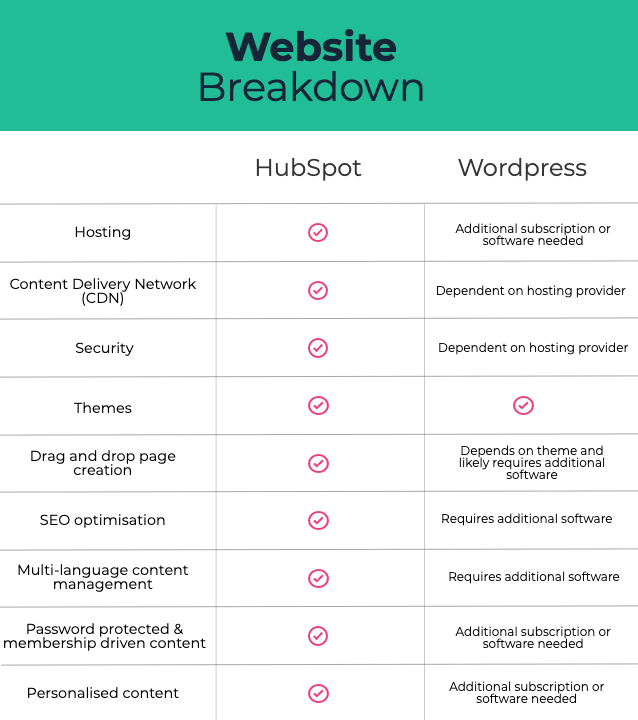 Blogs
Your CMS should make content creation easier because ultimately, great content attracts and generates customers.
HubSpot and WordPress follow a what-you-see-is-what-you-get look and feel, making it easy to write, format and edit blogs. However, it's with noting that WordPress requires plugins to optimise for search engines and other additional features, see below.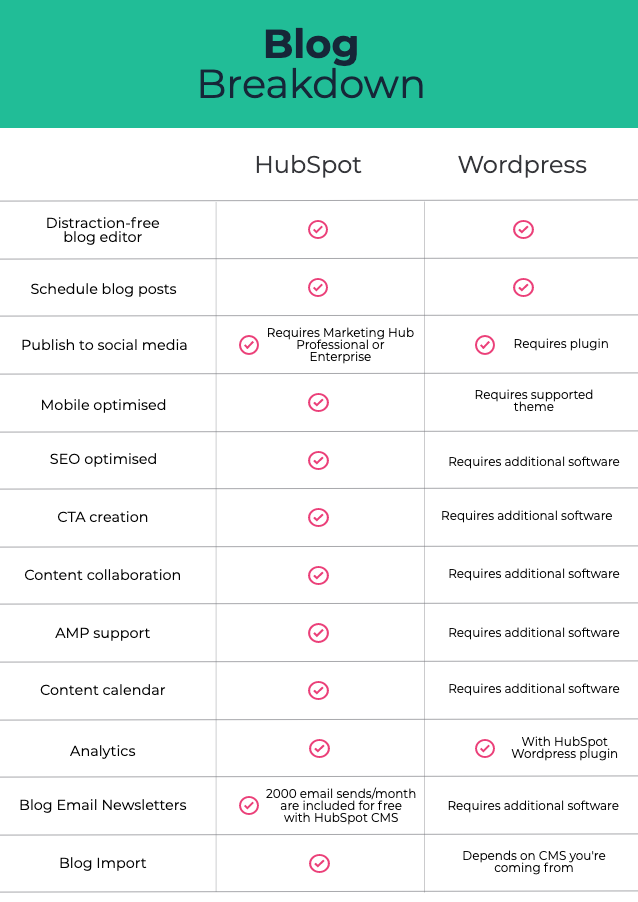 Landing pages
Similarly to creating blogs, creating landing pages can be quite a simple task in WordPress, as long as you're just changing images and copy. If you're wanting to change the layout of the page, you'll likely need a developer's help.
HubSpot is made easier because it allows you to simply choose the template that matches your goal and brand, then you're good to go. Each template is optimised for mobile and uses the drag and drop functionality to help you easily swap out the layout of the page with no need for a developer.
In addition to this, if you require live chat, a form or CTA on your landing page, it's all integrated ready for you to get started.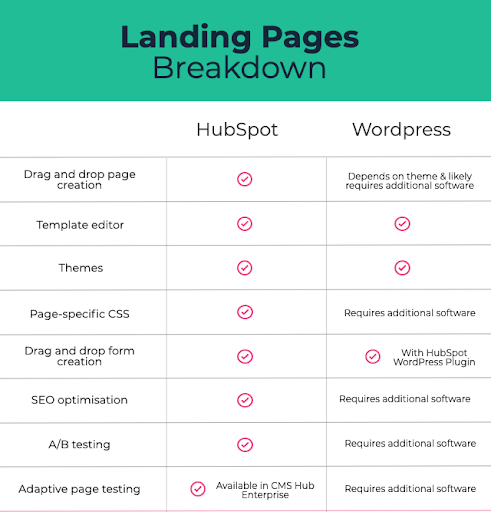 SEO
Once you've created your content, you need to attract website visitors to it, however many Content Management Systems don't help you do this. HubSpot is one of the few that includes the overall content strategy including an on-page SEO tool built-in. Whilst WordPress doesn't have this same functionality, it does have a number of plugins which can help.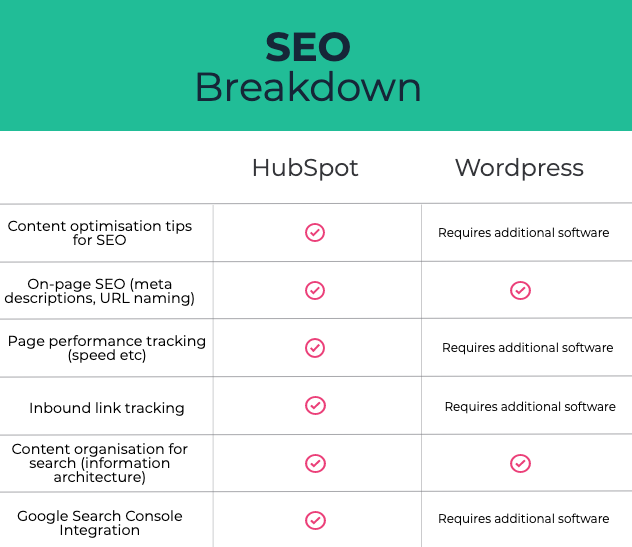 Analytics
Measuring data, whether it's the content created or generated contacts, having visibility over your campaigns will help you make those all important data-driven decisions. WordPress has some reporting capabilities, for example on content, e.g. number of page views.
However, for a deeper analysis, you'll require a more in depth view via a plugin or paid tool such as Google Analytics. HubSpot covers all the analytics you need to ensure you can measure performance as well as provide deeper insights using the integration with the CRM. You can view downloaded content offers, interactions with live chat and more.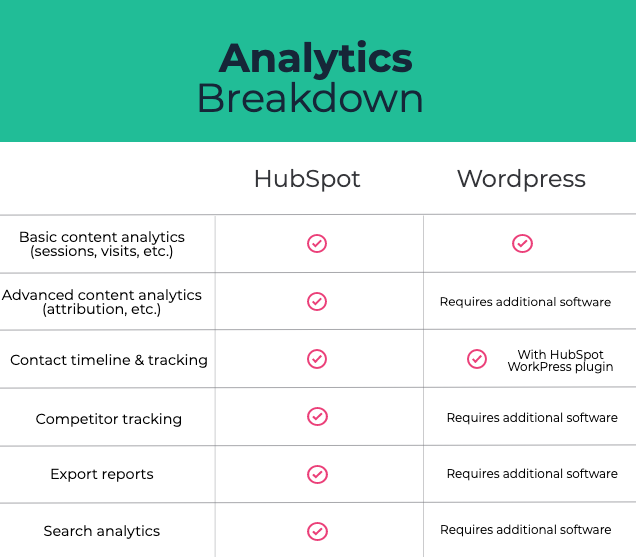 Advanced Website Training
To really get the most out of your website, testing is critical. As times change, so will your brand and audience, which is why you need to be able to test what works and what doesn't.
With WordPress, you'll need to purchase a plugin, for example HotJar, and integrate it into your website. With HubSpot, you get A/B testing included and with CMS Hub Enterprise, you'll get dynamic page testing, meaning you can optimise up-to five pages against one another.
Overall verdict?
Whilst WordPress is user-friendly and gives you the basics to get up and running, to get the most out of your website you'll need additional plugins. Whereas, HubSpot has a lot of the advanced functionality included, meaning you can manage your website all from one place, with ease.
Make sure your next website delivers the results you need to grow your business
A new website takes a lot of time, planning and consideration. Rush it and you risk an end result that underperforms and causes more headaches. To help make sure you don't miss any fundamental elements of the planning process, download our free website brief template, covering:
Key requirements
User journey goals
Agency selection matrix