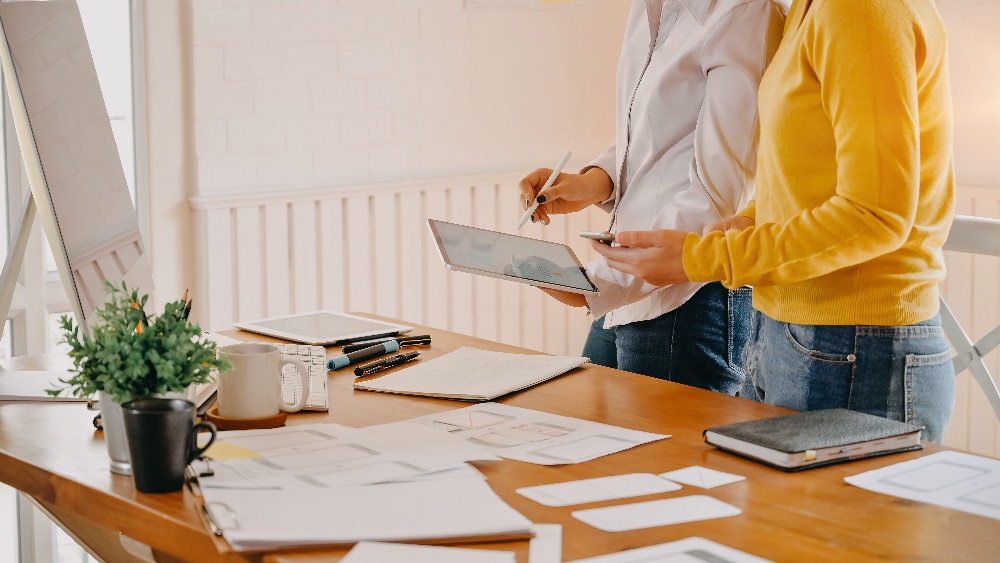 Back to articles
What is HubSpot CMS Hub: Features and benefits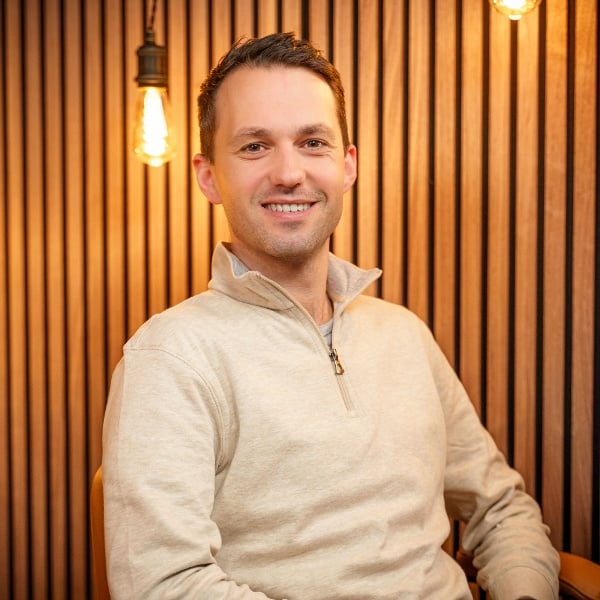 Huw Roberts
In 2020, HubSpot announced CMS Hub. If you've known and loved the HubSpot CMS for a while, you'll know how much of a big deal this is!
The CMS Hub is a huge move towards elevating HubSpot to truly become an all-in-one platform, giving you all the tools you need to build and scale a powerful, fully-optimised website from scratch...
So we're not just talking about simple content editing tools – with this new, dedicated Hub, HubSpot is positioning itself as a direct competitor to the likes of mid-market website builders like PHP., Wix and WordPress.
Previously, the HubSpot CMS was an optional add-on. This new hub offers two tiers (Professional and Enterprise) packed with intuitive new features designed for marketers and developers alike that make it easier to grow better.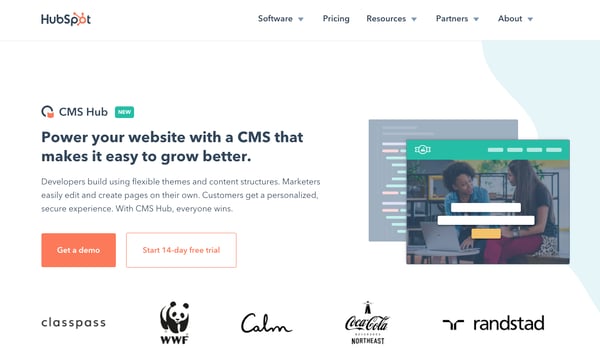 Why have they launched this?
Traditional CMS can be tedious and difficult to maintain. Want to add a new gallery module to your pillar page? Ask your developer. Want to boost conversions by moving that form to be in line with the header? Ask your developer. Change that icon colour? You get the idea…
Simple edits become time-consuming and security can be a big concern, stopping you from being able to do what you're supposed to be doing – marketing!
So the HubSpot CMS has been designed to take the pain out of managing a website, with out-of-the-box security and dynamic tools allowing you to spend more time focusing on the experience you're providing customers.
6 key features of HubSpot CMS Hub
Website themes
If you've ever managed and maintained a website before, you'll probably know the pain of trying to make a seemingly simple change but hitting a brick wall. You need to go through your developers for small tweaks like changing a colour or adding in a new module, which can add lengthy turnaround times and delay your results.
Enter – themes. Themes are essentially templates with the option for custom development. Bringing together a collection of assets – like modules, templates and CSS files – the developer can customise a theme to build a user-friendly editing experience for the marketer.
Whilst there are plenty of pre-built themes to choose from, your developer or agency can build a custom theme specific to your brand. With this customised theme in place, you'll be able to build out a consistent website without worrying about mismatched designs, logos, or navigations. No more waiting around for your developer to fit in your website updates!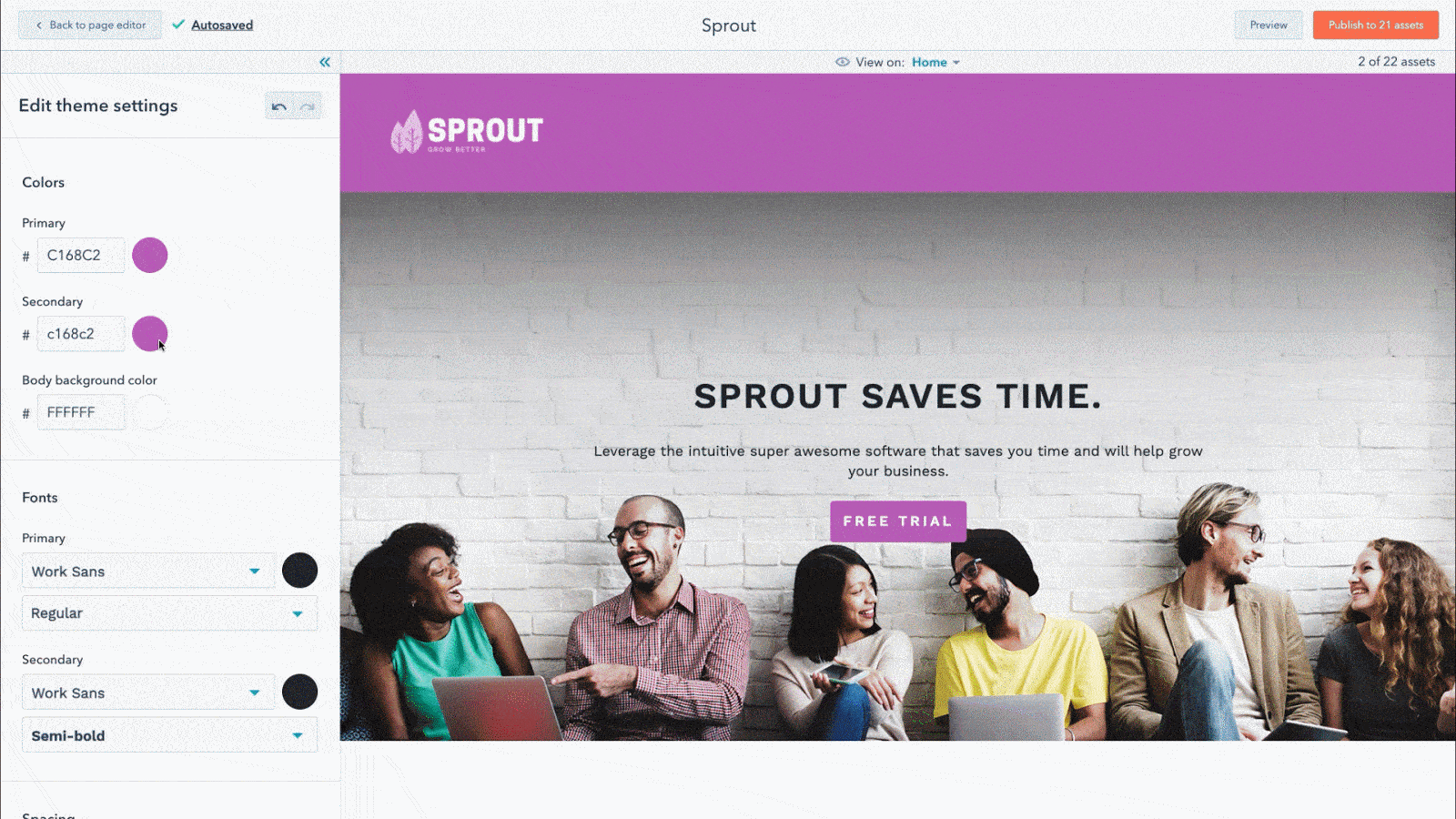 Multi-language content creation
CMS Hub makes it effortless to manage content across multiple languages – a game-changer for multi-national organisations or those aiming to expand globally. You can now manage multiple language domains and allow users to toggle between languages, with tools to help you optimise each one for SEO.
Through CMS Hub Professional, you're able to run A/B tests on all language variants of your content, whilst CMS Hub Enterprise allows you to run adaptive page tests (more on this next...)
Adaptive testing
Want to know what type of content is performing best with your customers, but don't have the time to iterate and test? Level up your A/B testing – Enterprise gives you A/B/C/D/E testing. The new adaptive page testing feature utilises machine learning to automatically test up to five variations of a page.
As people visit your site, HubSpot will monitor the analytics data and display the version of the page that performs best – you'll be able to continuously optimise your website without even having to touch a button.
Drag-and-drop editor
We ❤️ this feature! As an agency, we build, populate and support our clients with creating their dream website. So, trust us when we say, we've known the pain of traditional content management systems that don't let you make the page look how you want. Whether it's a restricted column width or an image module you can't move, you'd have to change the whole template that then impacts every other page using it. When you just want to fix that one page!
With CMS Hub, every page that's built using a theme allows you to edit the content on just that page with the drag-and-drop editor, with no need for custom coding or developer help. Just find the module you want, drag it into place, and drop! It really is that easy.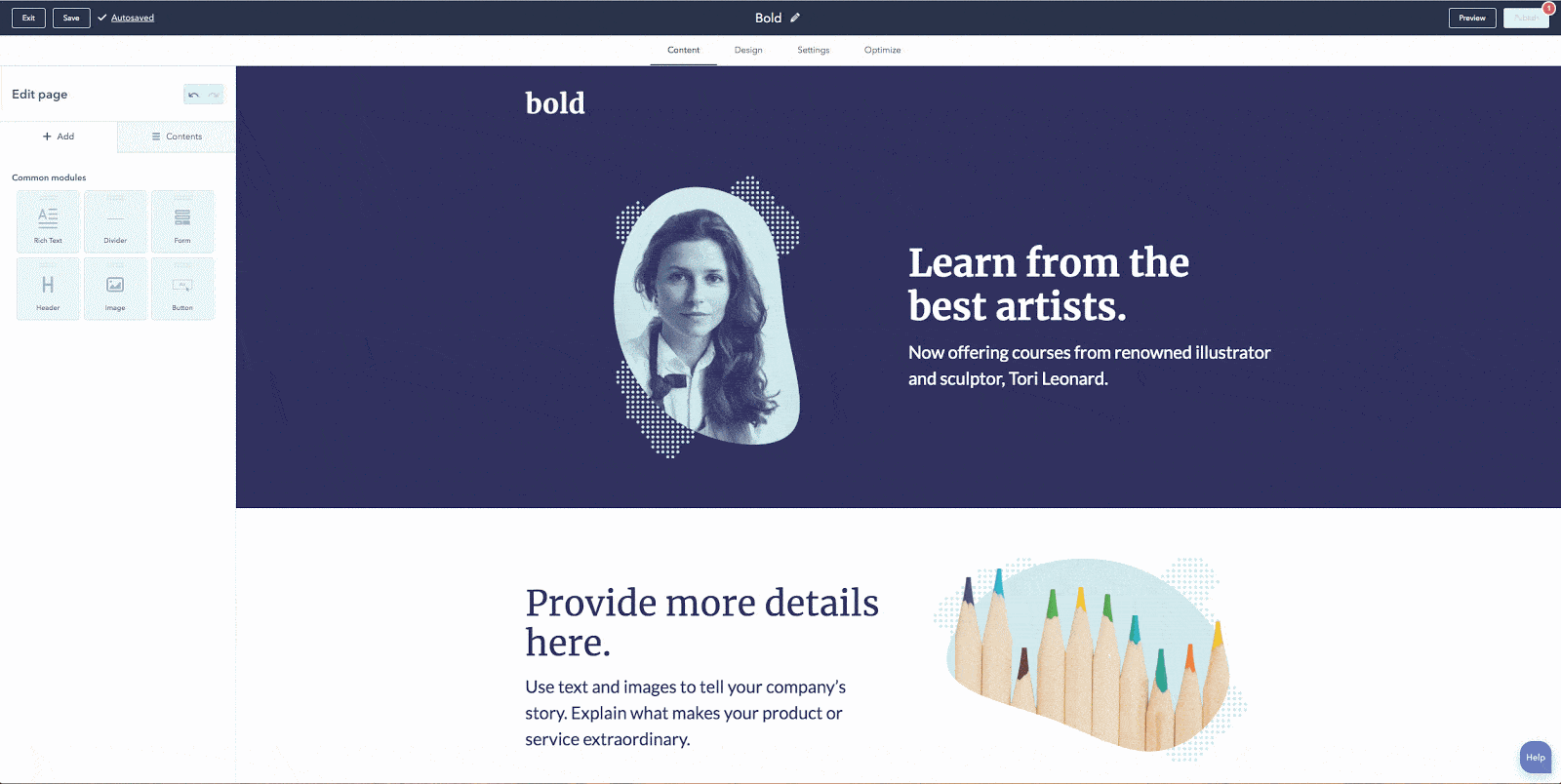 SEO recommendations
95% of search traffic goes to the first page of results. So how do you get ranking on that first page? Search engine optimisation aims to increase the quantity and quality of traffic from your organic search results. To help you see how you can improve your site and where you need to take action, CMS Hub offers SEO recommendations home screen with insights ranked in order of priority.
You can then see exactly which pages are having the biggest impact on your SEO and make any necessary changes.
Contact attribution reporting
Understanding the customer journey has only gotten more complicated as we've evolved the way we communicate. So much goes on behind the scenes when a user interacts with your website, which can make it difficult to know exactly what content influenced a contact to convert.
Contact attribution reporting uses attribution modelling to assign credit against various touchpoints along the conversion path. The new contact attribution report feature lets you pinpoint which content types, sources and campaigns are driving the most leads, meaning you can start to make informed decisions on what's working and where to invest more resources.
What's the difference between CMS Hub Professional and CMS Hub Enterprise?
CMS Hub Professional has all of the regular stuff in the existing CMS as well as all of these exciting new features. CMS Hub Enterprise has everything in Professional, with the additional power to build dynamic web app experiences, to extend your brand and have greater control over a growing team.
Of course, both integrate seamlessly with the other Hubs (Marketing, Sales and Service) and the extensive list of CMS Apps within the HubSpot Ecosystem. It comes with the free HubSpot CRM, meaning you can track website visitors throughout their journey with you and create personalised content paths to increase conversion and close rates.
Get a first-hand view of the features and tools within the HubSpot CMS Hub with our comprehensive video demo:
Want to know more about CMS Hub?
Book a quick call in with one of the team today to find out more about the CMS Hub and how it can help elevate your marketing strategy, as well as pricing and plans.
Get started with our free website brief template
Sometimes, you just need something to get the ball rolling. That's why we've put together a free website brief template covering all of the key features you need to consider so that you get the very best outcome for your new website.
We've taken years of experience working with clients on website briefs to collate the most important aspects – also taking into account what we as an agency require from your brief so that it helps smooth the process for both sides of the process.