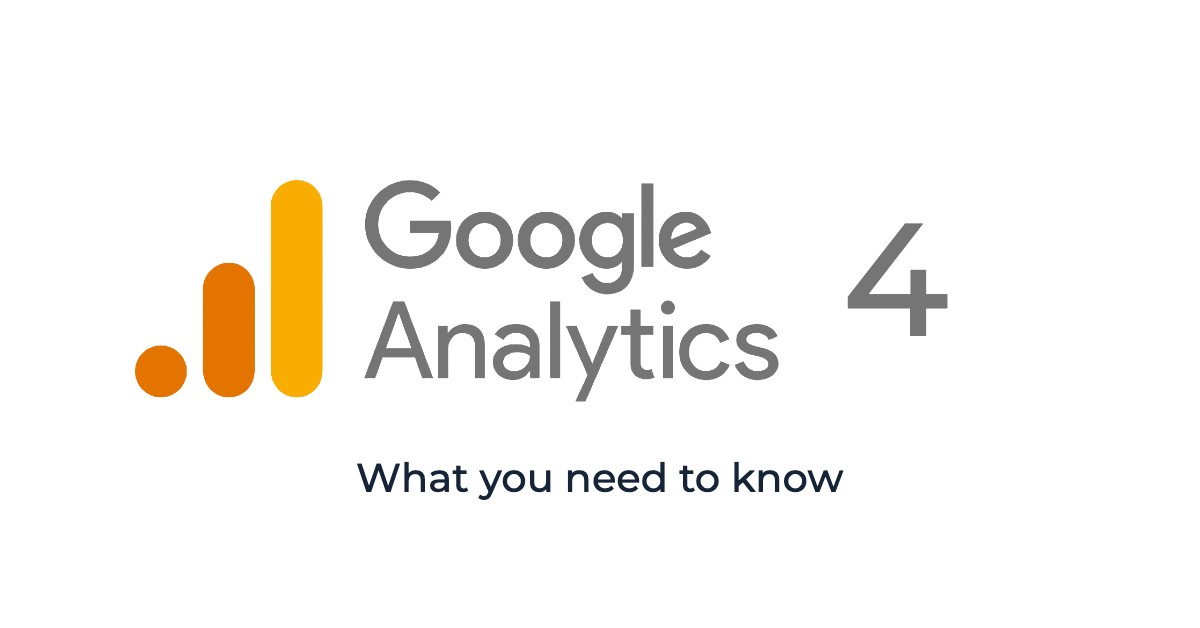 Back to articles
What you need to know about GA4

Huw Roberts
Find out everything you need to know about Google Analytics 4 (GA4) and how to prepare for the switch, set to become your default analytics platform from 2023...
Late last year, Google announced that their new version of Google Analytics, GA4, will become the default for users everywhere from July 2023 and will replace Universal Analytics.

So in summer 2023, Universal Analytics will stop processing new hits, with 360 Universal Analytics following suit in October 2023.

With it being a while off, you might be thinking this is a future-you problem... We've got to get through 2022 first, right? 😰

But as tends to be the case, there are things you should be thinking about and preparing for now, so that future-you doesn't have a complete meltdown in 18 months' time…

Don't worry, we've got everything you need to know below 👇
A little bit of context to GA4...
Google Analytics is a fundamental part of most businesses' digital strategies. It allows us to understand and analyse customer behaviour, in order to create better experiences in the future.

However, you've likely heard that the world of data we know right now is evolving. This is driven by a few factors. The way customers interact has changed, as well as a huge shift in privacy concerns and regulations.

Fundamentally, our approach to analytics now needs to change, too. Hence Google has made the decision to quite drastically update and overhaul its Analytics reporting platform.
What is GA4
GA4 has been born from a beta property introduced last year called 'App + Web'.
The core focus is that GA4 is future-proof. More specifically, it's designed to fill the cookie-sized holes we'll all see in our analytics by the end of 2023, when Google plans to phase out third-party cookies on Chrome browsers.

To quote the people in the know over at Google -

"Because the technology landscape continues to evolve, the new Analytics is designed to adapt to a future with or without cookies or identifiers. It uses a flexible approach to measurement, and in the future, will include modelling to fill in the gaps where the data may be incomplete."

To do this, GA4 is built with machine learning to fill the gaps when user consent isn't provided. Overall, GA4 also has a broader focus on tracking the complete user journey, conversely to how Universal Analytics would split interactions into sessions, devices or platforms.

It's also 'privacy-centric by design', recognising the changing landscape and in theory protecting your business and data from future regulatory restrictions.
Key features of GA4
Complete view of the customer lifecycle

By using an event-based measurement model, you'll be able to get a complete view of the customer lifecycle, whereas previously you'd see data organised by platform or individual sessions. This means you can understand your customers across all touchpoints.

Data-driven attribution credit to prove ROI

We're all about ways to prove the value of your efforts! GA4 now assigns attribution credit to more than just the last click, meaning you can see how the rest of your marketing activities have had an influence on conversion.

Business and compliance controls

With privacy controls being rolled out to now cover country-wide regions, GA4 is designed to help you manage and minimise the amount of user-level data (like cookies) you're collecting without impacting your measurement functionality. So you can still understand and analyse engagement and conversion points but remain compliant with new restrictions.

More insights and outcomes from your data

GA4 steps up the game when but comes to machine learning. It uses this to create predicted insights about user behaviour, highlight critical insights that will improve your marketing and create new related audiences more likely to convert.

New integrations across web and app data

Enhanced integrations mean you'll be able to use Analytics insights across campaigns and devices for better optimisation. This includes Google Ads, Search Ads 360 and Display & Video 360.
Key differences between GA4 and Universal Analytics
Sessions to events

UA is based on a sessions model to collect data that groups interactions into a specific timeframe, whereas GA4 is using an events-based model. This includes additional information like page title and user location for more accurate reporting.

Goals to conversions

In GA4, 'goals' as known in UA are now called 'conversions'. The amount of goals/conversions you can now have has been extended to 30 from 20. Conversions are now tied to events, which means it's really important to set up GA4 alongside any existing Google Analytics account you have.

New look overview

GA4 has a streamlined homepage with customisable views and widgets. Your data is combined into a central overview, with the topic-specific data split off on different scorecards. It's much more user-friendly with lots of flexibility to change scorecard size, shape and placement.
What do you need to do next?
GA4 is the future of analytics and will become the default platform for collating and analysing your data. Google has made it clear that this is where they'll be investing in improvements.

With the first deadline in 2023, you need to be thinking about getting set up on GA4 sooner rather than later. This means you'll be able to start collecting data right away, rather than having to start over from when UA is cut off.

To get started, you'll need to create a new Google Analytics 4 property alongside your existing properties.

We're excited to see how GA4 evolves – watch this space for more information about how to use it and its new features. As always, if you have any questions around GA4 or your marketing strategy in general, get in touch with us today and we'd be happy to help!