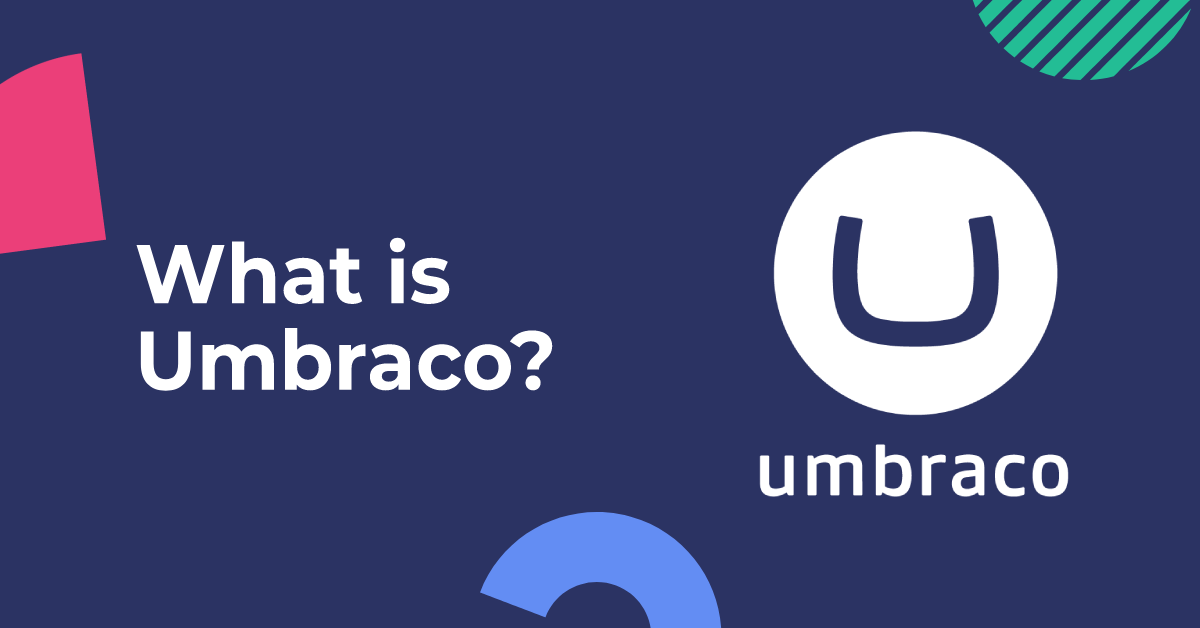 Back to articles
What is Umbraco?

Huw Roberts
Considering the Umbraco CMS? Here's everything you need to know about the content management system, including key features, security factors and more.
So you've decided you want a new website, or a total rebuild of your old one. But what is Umbraco? We've listed a few important things to know before you get started...

Follow the quick links below:
Even if it's only been a couple of years since your last major revamp, a lot of things have changed.

Web developers, marketers and end users look for different things when planning a new site, but the end result is always to deliver a site that is easy to update, well designed, adaptable, offers a fantastic user experience and ultimately does what you need it to.

If you're considering building a new website for your business then you've likely spent some time looking at the range of content management systems (CMS) available and if you hadn't heard about it already, you've likely discovered Umbraco, the self-styled 'friendly CMS.'

Much like WordPress, Umbraco is an open source (meaning it's free) Content Management System however unlike WordPress, it's built on .NET technology and is used to run enterprise-level websites for a huge range of multinational organisations like Microsoft, McDonalds, Mercedes Benz and Amnesty International to name just a few.

If you haven't considered Umbraco as a CMS of choice for your next web project, perhaps now's the time to dig a little deeper.
So where do you start?
Right now, the best content management system to achieve the goals of you and your employer by giving developers the freedom and flexibility to work efficiently to produce your site is Umbraco.

There are plenty of proprietary CMS where you pay for expensive licenses to access their services. Alternatively, when you talk about Open Source platforms, WordPress is still, by number of users, the biggest in the world.

But there are restrictions and difficulties in proprietary platforms that simply don't appear in Umbraco at all and as for WordPress, it isn't a pure CMS, more an adapted blogging platform. Umbraco offers much greater functionality.

We'll look at the more serious detail later, but what you need to know is that Umbraco's flexibility makes it cost effective, allows it to build an integrated site that can feed content to other digital assets and is only restricted by your imagination!
What is Umbraco and how does it work?
Umbraco is an open source .NET (dot NET) based Content Management System (CMS) that was created in Denmark 17 years ago. Since then it has developed from a niche product into a mass user Open Source platform with hundreds of thousands of installs across the globe to rival WordPress and others.

Umbraco allows web designers and developers to build an integrated site that can feed content to and from other digital platforms. It uses the Microsoft stack, Microsoft Windows servers, and benefits from the core security protection built into that system.

Umbraco is a pure CMS so you can create content, edit it, access all the content from the front end and place content anywhere on a single page, offering you a granular level of design detail and huge flexibility when it comes to editing and adding pages.
Why choose Umbraco over other CMS platforms?
ement.When comparing Umbraco to other CMS, many restrict you in the way you can create pages. There's a lot of functionality in them, however they force you to include a lot of HTML, which they need in order to render out content. Great if you know your span tags from your paragraph tags, not so good if you don't

Umbraco is different. It's cleaner and doesn't have that requirement. Without that messy extra HTML, pages perform better in web searches as there's less material for the systems to wade through. Umbraco is a pure CMS so you create the content, you edit the content, at the front end you can access all the content - no fiddling with HTML to make pages work.
Built on the Microsoft technology stack
Umbraco is built on Microsoft Technology, so it integrates extremely well with third party systems, allowing you to incorporate unique functionality into your new website or customer portal that helps increase efficiency for your business.

For example - imagine a property rental business. They might have an Umbraco website where available properties are listed for the public to view and back-office property management software that staff use to keep the property portfolio up to date.

The Umbraco website could be integrated with that back-office system so that when a property is rented out, staff would update the database and the website listing would automatically change to reflect that new status with no additional work, in real time.
Quick, creative problem solving
Having access to the source code in Umbraco is a major advantage over proprietary systems.
If you're using one of those, you will pay a significant license fee and purchase a support package on top. If you encounter a problem they will go through a process of escalating it and attempting to resolve it, which can take valuable time.
With Umbraco, there's flexibility. Issues can be identified by your team and reported to Umbraco for them to investigate. However, in the meantime, your developers or your agency team can work on a solution and restore full service much faster.
And once a problem's been solved and the solution has been tested, Umbraco will include it in the next update so the whole user community benefits as soon as possible.
User account control
Umbraco offers the ability to set up unlimited user accounts and to tier those globally with different access levels. Granular access rights can be applied to individuals to lock down or open up specific areas of the system and publishing workflows established so that all content flows through a group of editors who have publishing rights to live.
Manage multiple sites from the same CMS
If your business has a number of websites, Umbraco can be used to manage all of those from the same CMS. This multi-site set up allows new sites to be built by non-developers right from within the CMS and if each of your sites relates to a specific business unit, user account control can be used to limit or grant access appropriately.
Upload, manage and control media files
The media section for Umbraco supports documents and imagery and can be organised with folders to make it easier to navigate as well as control access. One feature that editors really love is the ability to upload a full resolution image, click and drag a focal point and see every instance of that image across the site crop automatically around it. No more messing about in Photoshop!
Manage content blocks from one single location
If you've got block of content like image galleries, sliders, accordions or tabbed content that you want to appear on multiple pages of the site, Umbraco allows those to be managed from a single location so you don't need to duplicate the assets every time you want to use them. And when updating them in future - just edit in once place and every instance across the site is updated instantly.
Enterprise level forms builder



Umbraco's form builder makes building and deploying forms a simple task. Drag and drop fields and add conditional logic to show or hide fields based on a users previous answers. Send responses to an email, CSV file or export them to a spreadsheet.
Drag and drop page creation
Create and edit pages through the intuitive, drag and drop visual page editor that enable you to create visually engaging pages quickly and easily.
Upload, manage and control media files
The media section for Umbraco supports documents and imagery and can be organised with folders to make it easier to navigate as well as control access. One feature that editors really love is the ability to upload a full resolution image, click and drag a focal point and see every instance of that image across the site crop automatically around it. No more messing about in Photoshop!
Open Source - Is it Secure?
INo system is 100% secure but Umbraco is probably the closest you're going to get. The combination of scale and a highly engaged development community means that issues are patched quickly and Umbraco itself is committed to ensuring the platform remains secure as it grows.

Developers who identify weaknesses in security work on patches and submit them so everyone can benefit. So your security team with Umbraco is essentially the entire 200,000 strong developer community. Even issues identified by internal penetration or security tests are shared by both businesses and agencies, like Fuelius.

Umbraco also future proofs its security by stripping out vulnerable old code. By doing this it closes loopholes in redundant code that malicious programmes or individuals could exploit. By keeping the code clean it makes it easier to identify and fix future weaknesses.
Is Umbraco easy to learn?
Clients are always impressed by the Umbraco CMS because it combines ease of use with the ability to do so much.

We always run training sessions with clients when a site's ready. From the start, the project manager on the client side is usually really involved. But the end users who are actually the editors who are going to update the news or content pages often only join the process towards the end when the site's ready for them to start populating.

With other platforms that can mean either expensive revisions if it doesn't perform the required actions, or learning how to operate a new CMS that might not be very intuitive.

But when you train people how to use the Umbraco interface, it's always easy to do because people understand the concept behind the pages. As an editor, if you can use Word you can use Umbraco.

Plus it then gives them the power to do publish great-looking content thanks to its easy media management. In Umbraco, we've eliminated the need to crop photos into the various sizes a site requires outside of Umbraco, instead you upload one hi-res image and choose the pre-defined crops you want.

That's often a 'wow' moment for people. So often we hear: "That will save us so much time."

From an admin point of view, editors can have full control. Umbraco's user types means they can give junior staff rights access and the ability to create content but they can't hit the publish button. Instead they can only save it and send it to an admin editor.

The editor gets a note alerting them some content requires checking and they can review it and publish it. There's also a full audit log of every change on every page so the editors have the reassurance that they can see who has made changes and when.
What can't Umbraco do?
The answer – so far as we're concerned – is that there's nothing you can imagine that you can't create in Umbraco.

There's complete freedom to create anything within the platform, nothing's too crazy. The only restriction is your budget!

Over generations, the user interface for editors and the CMS itself have improved a lot and handed over more flexibility to create custom controls, which was once a really difficult thing to do.

Now the Umbraco community has added a lot of functions for editors into the CMS and there've been some quite interesting ones which we use to add flexibility when we create websites or create apps using the interface.
Umbraco vs WordPress
WordPress is a blogging system and is built in PHP meaning it can be served in any hosting environment. Due to its rise is popularity over the years it has been pushed into the world of content management systems. WordPress is popular for the ever-growing plugins that are available for it, including SEO tools and a range of website themes, both free and paid for.
Umbraco was built as a content management platform from day one and it's currently the most popular CMS globally, built on the Microsoft .NET framework. It's widely used and supported by a community of developers over 200,000 strong around the world.
Umbraco is essentially a blank canvas that offers users to complete freedom to shape the CMS in any way they want. In addition to which, with Umbraco being built on Microsoft's .NET Framework you can be sure that the platform is extremely secure.
Umbraco also powers some of the world's biggest brands, including Heinz, Microsoft, Warner Brothers and Carlsberg. For more details on Umbraco vs WordPress, take a look a the comparison guide we've put together.
Optimising your Umbraco website for SEO
In today's world, websites need to be search engine friendly in order to rank higher in SERPs and attract a bigger audience. Umbraco comes packed with a range of features that give fine-grained control over SEO settings on a global and individual page basis.
Built-in controls include:
Global settings
Control the format of your title tags at a global level so they're populated automatically based on your company name and page name.
Page settings



Within each page setting you'll have the option to fill in page title, meta descriptions and meta keywords. Get your businesses SEO experts to check the length of the page title and the description to ensure they're easily readable on a search engine results page.
Open Graph Protocol (OGP)
We also add OGP settings to allow you to add custom title, description and imagery for social sharing page links at a global and individual page level.
XML sitemap
Your Umbraco website should have an XML sitemap which should list all the pages of the site that you want to be visible to search engines. Having a sitemap helps Google find the web pages that might not be directly accessible via the main navigation.
Canonical tags
This is important if you have multiple URLs that reflect the same content: canonical tags help tell search engines to treat these pages as the canonical URL or the URLs that preferred for tracking purposes. We typically add these to every page, giving you the option to edit if needed.
Umbraco in a nutshell
In a nutshell, Umbraco is a CMS that allows you to create any website you can imagine, makes it simple to keep content updated, has a huge community working on security, gives users the power to add great content and doesn't come burdened with huge license fees.

Do you have a specific project in mind? At Fuelius, we continuously help businesses of all shapes and sizes communicate better with their customers via highly optimised, user-centric websites with rapid development and deployment. Interested?