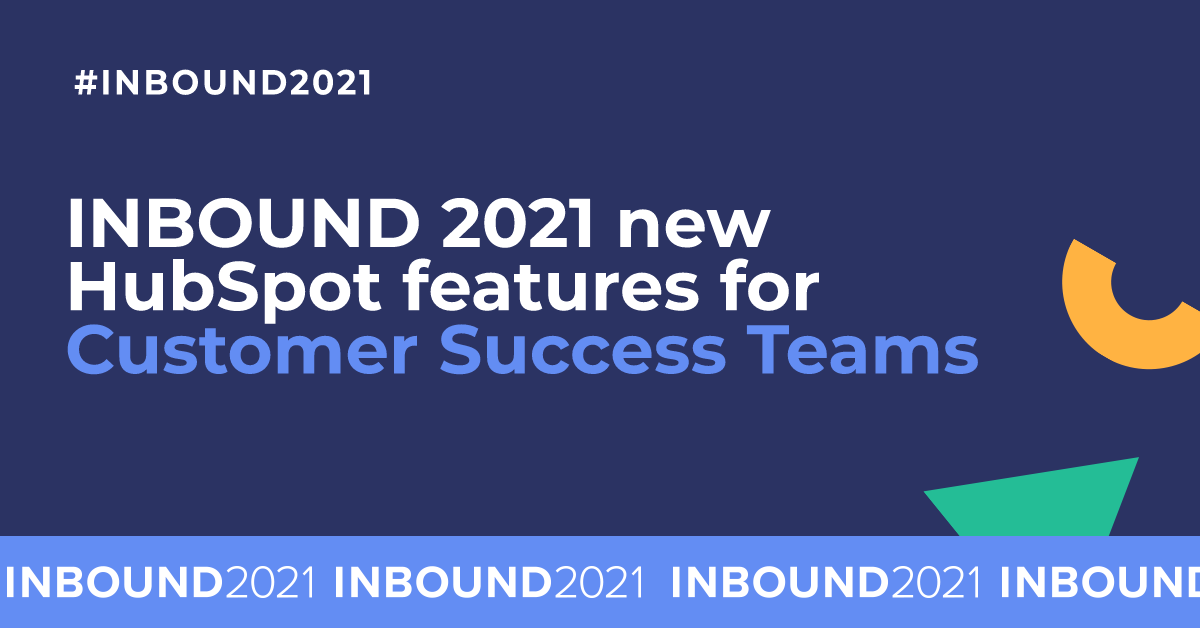 Back to articles
INBOUND 2021 new HubSpot features for Customer Success teams

Samuel Banks
INBOUND 2021 always comes with the goods! And this year is no different, with many top-notch tools and features zooming their way into HubSpot as we speak!
If you'd like to know more on how these new additions will help you improve the work you do in your Customer Success team, then read on to find out more…
Customer Portals
Customer Success teams do a fantastic job of keeping customers happy and informed but wouldn't it be great if that could be done in a more efficient way? Enter Customer Portals! By giving the power back to the customer for asking any questions they have, raising support tickets and being able to follow up on their queries in their Knowledge Base, Customer Success teams everywhere will be able to focus on other tasks. Service Hub Professional and Enterprise users will have access to the Customer Portals.
Business Units
If you have or manage multiple brands, it can be challenging at times to keep track of their separate marketing, contacts, sales assets, etc. – but no more! Business Units can help customers manage their multiple brands confidently and without issue in HubSpot.
For those who want to run upsell and cross-sell campaigns so that they can reach every segment of their audience, track communication preferences and contact information within each brand, this can now be done easily with the addition of Business Units! Being able to zoom in on one brand's results quickly and easily will be a game-changer for Customer Success teams.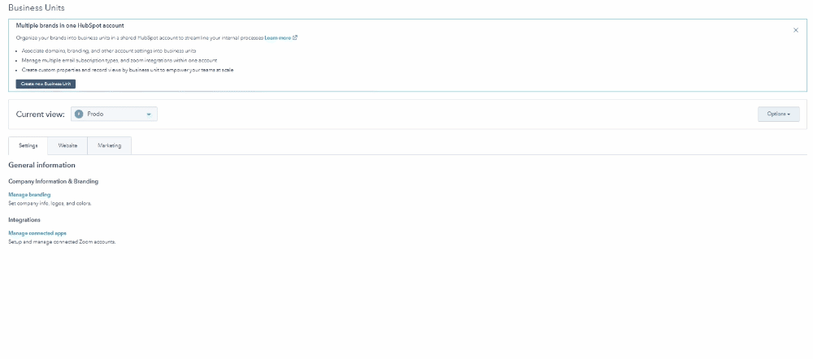 Forecasting
Want to be able to conduct painless forecast planning, monitor changes in your pipeline and hold 1:1s with your Customer Success team members? - Forecasting is the feature for you! With the ability to see the whole picture - your entire pipeline and option to then dive quickly into the details - your Customer Success teams can see how the quarter is going and inspect details to ensure the team is on track.
Custom Surveys
There are a whole host of feedback survey types out there but they don't always get to the deep, burning questions posed to Customer Success teams. Enter Custom Surveys on HubSpot! You can offer your customers the opportunity to easily send you feedback, be it via text fields, star ratings or radio select, that really gets to the root of any issues they're having. This forms a much healthier bond between Customer Success teams and customers, clearing the way for generating more successful business relationships.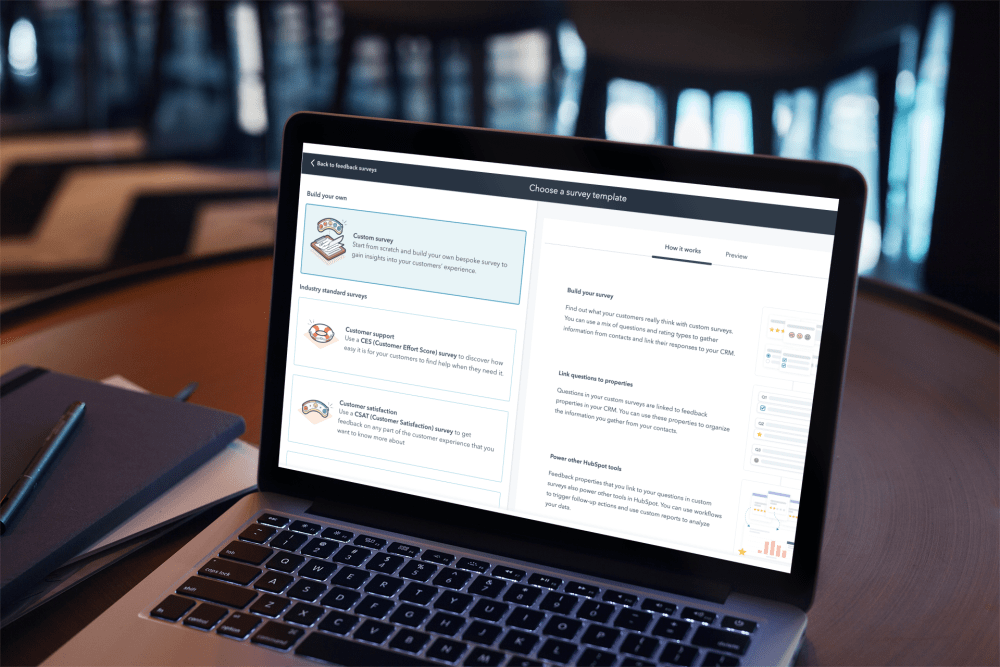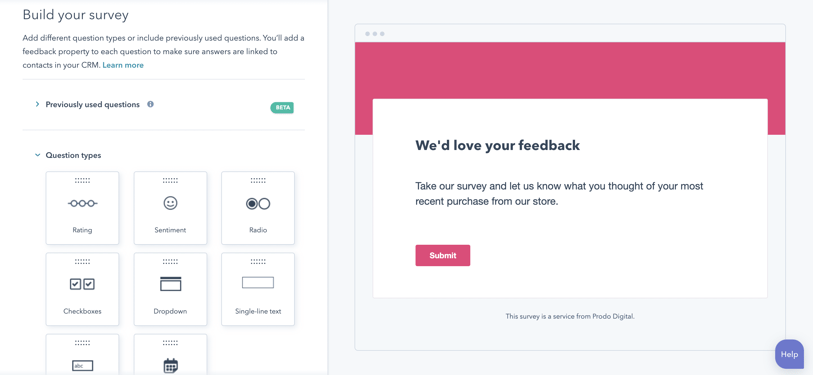 Flexible Associations
If modelling data is becoming awkward and time-consuming in HubSpot then Flexible Associations will be a welcome addition. Customer Success teams can use it to apply lists to see which contacts work for companies in a particular city, reducing their time spent on finding a workaround for getting this information and better reflecting the connection between records within HubSpot.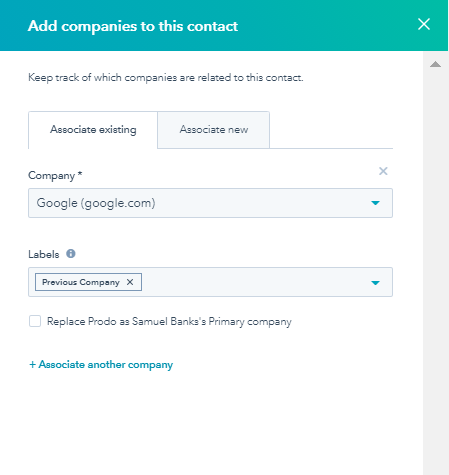 Custom Report Builder
There's nothing worse than feeling unsure of the groundwork of your business decisions - it's essential for any team to deliver work that's been based on facts and relevant data, not educated guesswork! The Custom Report Builder will do away with any limited data that has been gathered from limited reporting on generic questions and will help Customer Success teams answer the big questions that customers have. With the possibility to build bespoke reports on all CRM data, every member of your Customer Success team will be able to give helpful and on-point advice to customers that will, in turn, help to mould your business strategy.


🤩 Amazing, isn't it!? These new tools will be sure to have a massive impact on your business, ensuring smooth and efficient results and successful relationships built between customers and each and every member of your Customer Success team.
Want to know how these features can help you grow better?
At our next HubSpot User Group, we're excited to bring you an exclusive round-up of the top new products and features announced and what they mean for your business, as well as our favourite insights and learnings from the three-day event. Be sure to sign up now so you don't miss out!